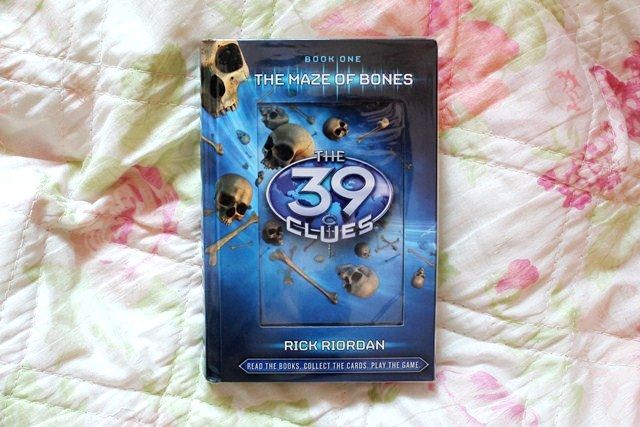 You can turn your boring summer into something adventurous without spending money by rereading old, dusty books while drinking freshly brewed mint tea. Something you dreamed before the end of school term but don't have the bragging rights because you don't have the credits to spend it for your dream summer vacation. Well, this is the right time to free from your anxiety, reread books this summer and brag about it!
The Maze of Bones
(The 39 Clues, #1)
by
Rick Riordan
Read from April 30 to May 01, 2013 — I own a copy, read count: 2
---
A million dollars… or a clue

What would happen if you discovered that your family was one of the most powerful in human history? What if you were told that the source of the family's power was hidden around the world, in the form of 39 clues? What if you were given a choice—take a million dollars and walk away… or get the first Clue? If you're Amy and Dan Cahill, you take the Clue—and begin a very dangerous race.
---
As much as it bothers me to reread books, this book still amazes me until the end. I can feel Riordan's style into the book as much as I wanted to compare it to
Percy Jackson and the Olympians
series. This is a good start to make Riordan the leading author in
The 39 Clues
arc and to make my statement clear, Riordan's popularity and good writing style topped the first book in the series leading readers to read the other books in the arc written by different awesome authors.
But what made
The 39 Clues
different from the other series I've read is the freshness of the story that could drive young and fascinating adult readers and to indulge them into the lives of the well-known historical names. Of course, what will be the reason of writing a boring historical book for children if we could write it with fascinating facts and action-packed adventure to find the next clue? It's thrilling and it's fun, right? This is just another work of Riordan that will well work with
Percy Jackson and the Olympians
' fans and all.
The problem with rereading: there is nothing new to offer. Although it is a reread, still it amazes me until the end.
For the Cahill siblings, good luck and be the victor of the race!
---
Rick Riordan is the author of the New York Times #1 best-selling Percy Jackson and the Olympians series. He lives in San Antonio, Texas, with his wife and two sons. To learn more about Rick, visit his Web site at www.rickriordan.com.
---