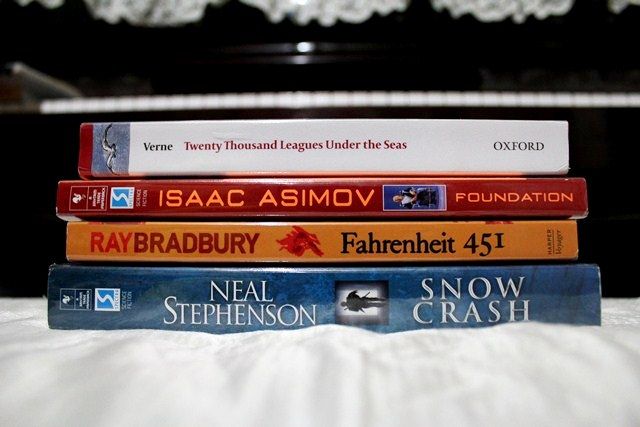 Philippines is getting hotter and so do the books I'm requiring myself to read for the month of May. Required books of the month are not as fancy as it seems. I don't read books regularly under this genre but who dares not to challenge oneself, right? It seems that I'm way ahead of my quantity challenge and the month of May is a good start to read books that requires much energy to finish. So here comes the spaceship from the galaxy.
Twenty Thousand Leagues Under the Sea by Jules Verne – I don't bother to read this since I've started skimming the first few chapters and the Oxford edition is quiet good in making bad translations awesome but what bothers me is the denizens who never stopped recommending Verne's books.
Foundation by Isaac Asimov – As much as your ass is tight, I don't use foundation and I don't enjoy reading textbooks.
Fahrenheit 451 by Ray Bradbury – I think this is the right time to read The Filipino Group's Book of the Month of January. I'm sure the rough days are over.
Snow Crash by Neal Stephenson – Never heard of Neal Stephenson before but I'm sure Flippers are talking about avatars. You mean the movie Avatar? I'm sure it's not.
Science fiction for the month of May, am I joking? Of course I am aware that the Earth's end is near and I foresee that May is the month of reckoning. I'm sure nobody believes that and I'm sure I was just freaking you guys. The truth is
Flips Flipping Pages
is having their
second read along this May
and the last time I joined, I failed to finish Haruki Murakami's very dull and thick book, 1Q84. For Flippers, the month of May is the month to celebrate science fiction with co-readers.
For the moms around the world, Happy Mother's Day!