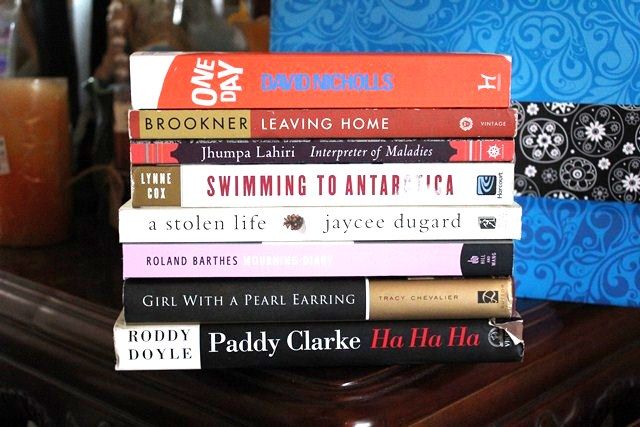 I'm not an excellent gift giver. It is a proven fact to most people to whom I assume received my gifts. I don't normally go and shop gifts. I usually ask my mom, sister or my dearest friends which item is decent—not excellent—to be given as a gift. But what makes a gift awesome for me? I don't know, but the best gift for me is a bag full of books. Who will say "no" for that!
My mom and I went to the nearest mall to buy a gift for a friend's son. Well, what happened? I hoard books while my mom looking for a gift but end up giving half of my hoarded books. I don't like to be mean to a one-year old child, but I want my cute books back! For now, I will stick to half of my hoarded books.
Mom, you will pay for this.
One Day by David Nicholls – I'm very happy that I found a copy. I know, I know. I don't really like to read this for one reason, this is known in the TFG circle that the book is recommended by a matronic reader. Hilariously true! But she made my day and because of that, I'll push this book up in my TBR. [₱127.00; Booksale – KCC Mall of Marbel; May 9, 2013]
Leaving Home: A Novel by Anita Brookner – I bought this because of the tempting price and Anita Brookner's Booker Prize-Winning Hotel Du Lac. Have anyone read Hotel Du Lac? Was it good? [₱50.00; Booksale – KCC Mall of Marbel; May 9, 2013]
Swimming to Antarctica: Tales of a Long-Distance Swimmer by Lynne Cox – I've read Lynne Cox's Grayson last two years ago. It was a thin book and it was a heart-warming autobiography of her seventeen-year old self and how she saved a baby whale in the nearby coast of California. Again, Booksale never disappoints me if we talk about the price. Anyway, Lynne Cox's works are scattered everywhere if you only dig books. [₱25.00; Booksale – KCC Mall of Marbel; May 9, 2013]
A Stolen Life: A Memoir by Jaycee Dugard – I've been looking for this since 2011 but I found a cheap mint copy. I think that was my lucky day. Hooray for book hunters. If I could still remember, Amazon featured this book before it was released. So I think buying this is like buying a good read. Plus, people in Goodreads loved the book. [₱115.00; Booksale – KCC Mall of Marbel; May 9, 2013]
Mourning Diary: October 26, 1977–September 15, 1979 by Roland Barthes, t. Richard Howard – I found this beneath the stocks of old books. None of my local friends owned it. The reason I purchased the book is because of the sober entries. Yes, I checked the inside before buying it because I never heard of the author. If you can find one, I suggest buying it. Although it's quiet pricey for an unknown author the entries are worth reading. I skimmed it while waiting for my mom though. [₱145.00; Booksale – KCC Mall of Marbel; May 9, 2013]
Girl with a Pearl Earring by Tracy Chevalier – This is one of our unsuccessful buddy reads with Paolo and Phoebe and soon more lost documented book chats. Chevalier's attempt in creating a new dimension to masterworks made her famous. I've read Chevalier's The Lady and the Unicorn and it was an awesome read. I think picking this one up is another Chevalier's time teleporting reads. [₱45.00; Booksale – KCC Mall of Marbel; May 9, 2013]
Paddy Clarke Ha Ha Ha by Roddy Doyle – I can't believe the cute kid on the cover won the 1993 Booker Prize! [₱45.00; Booksale – KCC Mall of Marbel; May 9, 2013]
Interpreter of Maladies by Jhumpa Lahiri – I recommend this book to a stranger but he did not listen so I'm giving this book to a friend because he write short stories hoping to read his works soon. I don't like to waste Lahiri's book and I am sure he will like it more than I did—or maybe not. We don't know but I'm still hoping. [₱75.00; Booksale – KCC Mall of Marbel; May 9, 2013]
And my mom pay for everything!

I exclude the books I bought intended for my friend's son but in the end of that day, I was happy and perplexed enough to carry them. Overall, I have books to read and I have books to give. I don't have any words left to explain what I felt that day but only the memories of digging treasures.